One of the emerging sustainable fashion designers who showed her collection at Fashion Week 2016 is
Ev Bassa
r, who is also a young philanthropist. She makes beautifully fluid garments of primarily organic cotton, wool and leather. Her clothes have a fantasy appeal looking as if they belong in a dark fairy tale. Each piece is knitted, crocheted, sewn or felted using various techniques and is custom-made at her home in New York City. Bassar is very eco-friendly and recently stated in an article from Eluxe Magazine that, "The leather I buy and use comes from a store that selects animals who have died of natural death and weren't killed intentionally for fashion purposes." She intensely wants to help and not hurt. To that end she established a foundation, HeartEd, to help children with congenital heart defects. I like her clothes because they have a raw but rich edge to them which appeals to one's innate desire to construct, deconstruct, and reconstruct themselves.
Bassar's clothes are very intense and serious, yet embody an element of frivolity.
The Ev Bassar collection also reminds me of the grunge period and the Alexandar Wang look of oversized clothes favored by millennials.
The line is unisex, appealing to people who want gender neutrality in clothing.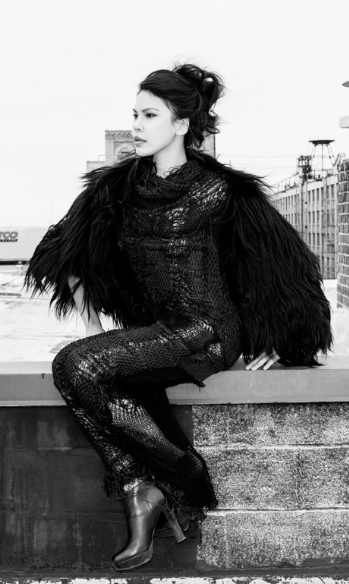 I love the knitted wear. It is rough but elegant and chic.
"The leather I buy and use comes from a store that selects animals who have died of natural death and weren't killed intentionally for fashion purposes," - See more at: http://eluxemagazine.com/fashion/ev-bessar/#sthash.HjsegOJ1.dpuf
"The leather I buy and use comes from a store that selects animals who have died of natural death and weren't killed intentionally for fashion purposes," - See more at: http://eluxemagazine.com/fashion/ev-bessar/#sthash.HjsegOJ1.dpuf
"The leather I buy and use comes from a store that selects animals who have died of natural death and weren't killed intentionally for fashion purposes," - See more at: http://eluxemagazine.com/fashion/ev-bessar/#sthash.HjsegOJ1.dpuf
"The leather I buy and use comes from a store that selects animals who have died of natural death and weren't killed intentionally for fashion purposes," - See more at: http://eluxemagazine.com/fashion/ev-bessar/#sthash.HjsegOJ1.dpuf